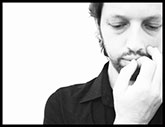 Terry Jaensch is an Australian poet/actor and monologist.
His first book of poetry Buoy (FIP) was shortlisted for the Anne Elder Award by the Fellowship of Australian Writers.
He has worked as Writer-in-Community, Poetry Editor (Cordite) Artist-in-Residence, Dramaturge, Artistic Director of the 2005 Emerging Writers' Festival, poetry teacher and in a variety of arts/community and local government programming positions.
In 2004 he wrote and recorded 15 monologues based on his childhood in a Ballarat orphanage for 'Life Matters' ABC Radio.
He was awarded an Asialink residency in Singapore where, with poet Cyril Wong, he co-authored the volume Excess Baggage & Claim (Transit Lounge).
He has won awards including the Melbourne Poet's Union International Poetry Prize, the Victorian Writers' Centre Poetry Slam and was on the winning team of the Melbourne Writers' Festival Poetry Slam.
His work has been anthologised, most recently in Out of the Box: Contemporary Australian Gay and Lesbian Poets (Puncher and Wattmann) and published in journals nationally and in the US, Germany, Japan, Singapore and India.
His poems have been translated into Korean, Bengali, Russian and interpreted as classical Indian dance.
In 2011 he presented at the Seoul International Forum for Literature as part of an Australia/Korea poetry exchange facilitated by Asialink and Cordite. He has trained as an actor, having studied at the Herbert Berghof Studio and Stella Adler conservatory in New York.