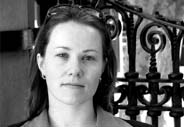 Rose Michael is a publisher, editor, teacher and writer of fiction.
She has worked as editor of the Weekly Book Newsletter and Australian Bookseller and Publisher and taught at the University of Melbourne.
An earlier version of her debut novel The Asking Game was a Vogel finalist.
Of her writing Miles Franklin winner Frank Moorhouse has written 'I was thrilled when I first published Rose in Best Australian Stories 2004′. She has gone on to write with great flourish – to quote one of her characters, her writing is like chilled gin "as thick as syrup, as sticky as lust".