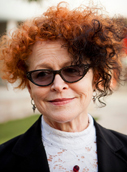 Inez Baranay has published ten books of fiction and non-fiction, most recently Always Hungry.
Her previous novels With The Tiger and Neem Dreams and the non-fiction Sun Square Moon: writings in yoga and writing were first published in India, where Inez has been many times over the last thirty years.
Early novels were collected in the omnibus reprint Three Sydney Novels and non-fiction includes Rascal Rain: a Year in Papua New Guinea.
Inez has also published essays, stories, reviews and travel pieces; some can be read online. She recently completed a memoir and continues to work in prose and screenplay forms.
In Australia, India, USA and Europe, Inez has lectured on writing issues and taught creative writing in universities, schools and community groups, given many readings and talks, been a guest at conferences, seminars and festivals, and been a resident at various international writers' centres. She currently lives in Istanbul.
More at www.inezbaranay.com