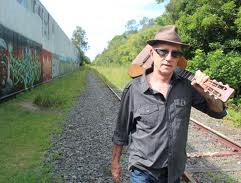 Carl Cleves was born in Belgium. He graduated in his Belgian Law Studies and was offered a scholarship to study traditional African music with ethnomusicologist John Blackingin South Africa. This started off many years of travel throughout Africa, the Middle East, the Orient, the Pacific Region and South America, guitar in hand, acquiring musical skills and an endless supply of stories and songs.
His adventurous life has included stints as an antelope trapper in Uganda, relief worker in cyclone struck India, radio broadcaster in Africa and fisherman in the South Pacific.
While living in Brazil he became a popular singer and bandleader.
Carl has released five solo albums and another six with Parissa Bouas, a Greek-Australian singer- songwriter who became his wife, under the moniker The Hottentots. His songs have won numerous awards in the categories of folk, world and roots music, including two of the most coveted national Australian Music Awards (Music Oz and the Australian Songwriters Association). Carl currently lives in Byron Bay, Australia.
More at www.carlcleves.com