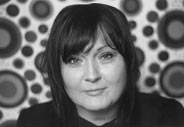 Rachel Matthews grew up in Shepparton, Victoria. She is a graduate of Deakin University (Bachelor of Arts), the University of Melbourne (Diploma of Education) and RMIT's Professional Writing and Editing diploma course.
She teaches VCE English and Media studies at the Distance Education Centre Victoria, a government school that provides flexible learning for students who can't attend mainstream classrooms. She is also a tutor at RMIT's Creative Media department and is completing a PhD at Victoria University, her second novel.
An earlier version of Vinyl Inside was commended in the 2003 Australian Vogel awards.